Save money & spread the cost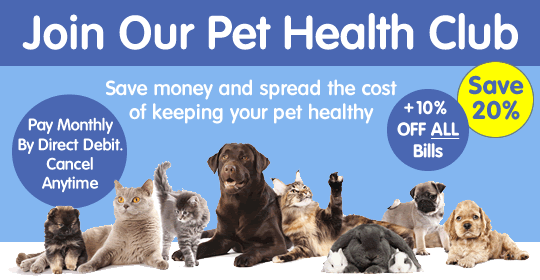 For a small monthly fee your pet will get all the essential preventative treatments AND 10% OFF ALL veterinary bills.
Our Pet Health Club is a great way to spread the cost of essential treatments to keep your pet healthy and to save money on any bills at the practice as soon as you join.
We encourage you to join our Pet Health Club because routine care is an important part of responsible pet ownership. It keeps your pet in the best possible health and helps them lead a happier life.
By joining the club you will ensure that your pet receives the highest quality 'preventative maintenance' throughout the year – all the things that are essential to keep your pet in tip-top condition.
As a Pet Health Club member we will reward your loyalty with an exclusive 10% discount on all your veterinary care costs and other purchases at our practice – so if your pet does require treatment you save money but still receive the very best high quality care.
We can't emphasise enough how important it is to provide routine veterinary care and joining our Pet Health Club will help you do so for an affordable fixed monthly cost.
Look at what you get
Complete annual vaccinations
A full health check with our nurses for weighing, ear cleaning and veterinary advice
Full prescription worming treatment for the year
Full prescription flea, mange and lungworm prevention treatments for the year
10% OFF all your vets bills, food, toys, accessories and everything else at the surgery*
Any pet is eligible to join the scheme and membership is available for the life of the pet, although it can be cancelled at any time**. Payment is made by Direct Debit.
*Excludes out of hours emergency care. **If you cancel before your 12 month plan is complete, you will be responsible for any discrepancy in payment for treatment received to date.
Look at how little it costs
You will also get the 10% off all your bills at the practice in addition to the savings shown below:

It's so easy to join
To join our Pet Health Club you can either call 01749 813291, use our secure online application form by clicking the button below, or just come into the practice and apply in 2 minutes at reception.